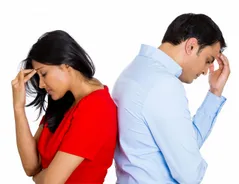 "You can't divorce yourself or your children"
Discernment Counseling is for people who are considering divorce but are not completely sure if it's the right path for them. They want to take one more look before making a permanent decision with severe long-term consequences.
What is the goal of Discernment Counseling?
The goal of Discernment Counseling is clarity and confidence about which direction to take for the marriage, based on a deeper understanding of the relationship and its problems. Note: The goal of Discernment Counseling is not to solve marital problems – but to see if they can potentially be solved. Some couples may decide to commit to specific plan involving couple therapy while others will not.
"Leaning Out" and Discernment Therapy: Unlike traditional marriage counseling that assumes that both people are willing to work on the marriage, Discernment Counseling assumes that frequently one spouse is "leaning out" of the marriage and the other spouse is "leaning in." Each perspective is honored.
What does discernment counseling involve? The focus is on helping people decide among three paths:
Move towards divorce
Try to restore their marriage to health
Stay the course and decide later
The sessions are divided between conversation with the couple together and individual conversations with each spouse. Most of the time is spent in individual conversations because each person is on a personal journey of discernment and action.
As a highly trained Discernment Counselor, Karen Rippy helps each party understand his or her own contributions to the problems and the possible solutions. Understanding oneself in a marriage is important for the future even if the marriage ends. You can't divorce yourself or your children.
I respect the reasons for divorce while trying to open up the possibility of restoring the marriage to health.
Discernment counseling is considered successful when people have clarity and confidence in their decision, and a deeper understanding of themselves and their relationship.
When a decision emerges, I will help the parties either: (a) Find professionals who can help them have a constructive divorce or (b) To formulate a reconciliation work plan to create a healthy, successful marriage.
In some cases, couples decide to take a time out from the discernment process without arriving at a clear direction, with the option of returning later.
How many sessions are there?
Discernment Counseling involves 1-5 sessions. You are committing at first to just one session, and then can decide to do more sessions up to five. The sessions are 1.5-2 hours in length.
What is the cost of Discernment Counseling with Dr. Karen Rippy?
You will be charged an hourly rate well below what an attorney will charge you for divorce proceedings. The first session runs between 1 ½ and 2 hours. Contact me for current hourly rates.
Discernment counseling is NOT suitable when
One spouse has firmly decided to divorce and now wants the other to accept the divorce.
One spouse is coercing or manipulating the other to participate.
There is a danger of domestic violence.
There is an Order of Protection from the court.